This issue of
All Things Wedding Guide
is dedicated to the Reception ~ Table Names to be exact!
One of the latest phases in
All Things Reception Related
, brides have been stepping out of the box when it comes to their reception, including the color theme, floral theme, centerpieces and various other aspects. Nowadays, with receptions where there are a large number of guests, many brides and grooms opt to 'name' their tables to help their guests find their seats. While most couples choose to use numbers to name their tables, some choose to do something different and/or unique which show cases their individuality.
If this is the route you're going to go, you should definitely choose a topic and/or theme that fits your personality and can be anything that you like. For instance, if you love your job, choose names that are job related; other options may be to focus on a specific themes, something that relates to your wedding reception, something related to your heritage, something related to your honeymoon, or even things both you and your fiancé love.
Here are a some examples taken from an article I saved from several months ago: (unfortunately, I didn't save the source name)
Name Your Tables After Your Occupation
•If you're a teacher, name your tables after school subjects or other school related names such as: Mathematics, Report Card, English, History, Recess, Teacher's Lounge, Cafeteria, Gym, Home Economics, Spanish, and so forth.
•If your husband is a minister of some kind, name your tables after books of the Bible.
•If one of you is a doctor, use names like stethoscope, tongue depressor, nurse, cotton swabs, and so forth.
•If you work with computers, use names like keyboard, mouse, motherboard, monitor, video card, memory, etc.

Name Your Tables After a Hobby
•If you're a shopaholic then name the tables after your favorite stores.
•If you both love basketball, or some other sport, name your wedding reception tables after your favorite players or teams
•If you love rock climbing, name the tables after places you've climbed, or climbing gear
•If you love the outdoors, name your tables after different species of trees or flowers (using seed packet wedding favors for these kinds of tables is very popular)
Name Your Tables for Your Reception
•If you are having a wedding reception with a theme, use something that goes along with that theme, such as the following:
◦For a Western Theme, use terms like Cowboy, Cowgirl, Lasso, Saddle, Horseshoes, Corral, Saloon, Outlaw, etc.
◦In a Beach Theme wedding, use names like Starfish, Sand Dollars, Sea Horses, and more.
◦A Dessert Reception can be easily done by naming your tables after your favorite candies or kinds of candies.
•If your wedding ceremony or reception are outdoors, you can also name your tables after different kinds of trees and flowers, as listed in the previous category.
•If you are having a reception with a theme, check out my other article on Themed Table Centerpieces for great ideas on making a great centerpiece for your tables.
Name Your Tables After Your Honeymoon
•If you're taking a Caribbean cruise, name your tables after different tropical islands.
•A Hawaiian Honeymoon can also be named after the different islands, as well as other things native to Hawaii.
•A European Honeymoon can bring you tables named after the Eiffel Tower, Big Ben, Parliament, Stonehenge, Venice, and much more.
In keeping with the traditional table numbers, there are a variety of ways you can make yours 'different'!


Wine Bottles


Picture frames


Sand Dollars


Candles


Ornaments


Here's some photos of different ideas from former brides: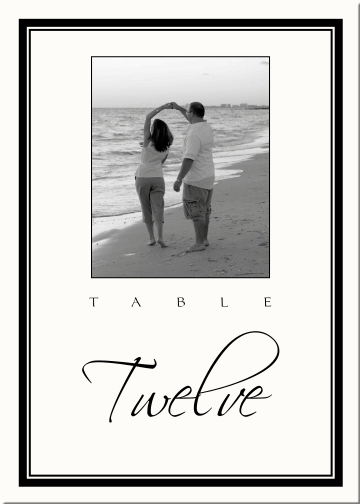 While there are endless possibilities with this specific topic, when choosing a theme, be sure you choose something that showcases you and your fiancé, together with what you love.
Here's a website that is an awesome resource if you're looking for theme specific choices! It's called Documents & Designs. They have tips and ideas on a number of different topics, but all Wedding Related!
What are we doing for our wedding might you ask?!? Well, first of all, we're having not one, but two AHR's (At Home Receptions). One in California and 3 weeks later, one in Minnesota. They're both going to be casual affairs so I don't think we're going to have seating charts therefore no table names! :) Whew! Less to have to worry about!
***GIVEAWAY***GIVEAWAY***
This week's GiveAway is the following:
These table numbers are tented so both sides have the number on them along with a bow in the color of your choice and a swarovski crystal in the middle of the flower. They are 6 inches by 6 inches and the numbers start at 3 as the first two cards will say "Brides Family" and "Grooms Family". The photo above shows the bow in Fuchsia.
The lucky winner will receive a set of ten (10) Table Cards.
HOW YOU CAN WIN IT!
(To enter this GiveAway, please leave all entry comments on this thread!!)
Mandatory Entries:
** Become a Follower of this WordPress Blog by Subscribing through E-Mail utilizing the "Email Subscription" button on the right hand SideBar ~ This is worth three (3) entries. Leave three separate comments on this post indicating that you've subscribed to this Blog. Be sure to include your email address so I may verify your subscription.
** Follow me on Twitter:
http://twitter.com/JustMeShelliB
~ This is worth two (2) entries.
Extra Entries:
** Post about this GiveAway on your Blog, being sure to leave your Blog URL when you leave your comment that you've Blogged this ~ This is worth one (1) entry per day.
** Tweet this GiveAway:
Win set of 10 Table Tent Table Number Cards with Minnesota meets California's All things Wedding Guide. Ends 12/29."
(Can Do 1 Per Day)
There is a total of 2 Mandatory Entries which you're able to gain a total of 5 entries!! And an opportunity for 14 extra entries!
This GiveAway opportunity will end on Tuesday, December 29th @ midnight Pacific Standard Time. The winner(s) will be selected and announced on Wednesday, December 30th.
To enter this GiveAway, please go here!!