Just a quick little blog post sharing with all of my bloggosphere family and friends that I am seriously starting to freak out. Just a tad.
I have SO MANY wedding related tasks that I need to do, and it seems like TIME is my arch nemisis every.single.day. My first and number one priority SHOULD BE working out everyday.
I have this little "pooch" in my tummy that I want to get rid of before going to have my dress fitted/altered. My days are numbered so I need to find the motivation to do what I need to do to get rid of said "pooch" and feel comfortable enough. I suppose the first step (clearly you would think this is a no brainer) is to make an appointment to get fitted. That way I have a goal... a date in which I need to work toward. So, today is the day I do just that! I'm going to find an alterations shop and make an appointment with a seamstress. Quite honestly, the only thing that really needs to be 'altered' per se is the hem of my dress. 100% because of the fact that I'm short. However, if it were that easy, I'd do it myself. Unfortunately, the hem of my dress is beautiful! Here's a picture of the bottom of my dress: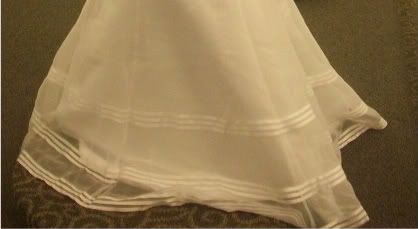 And, to refresh your memory, here's a full shot photo of me and my dress when I tried it on at David's Bridal: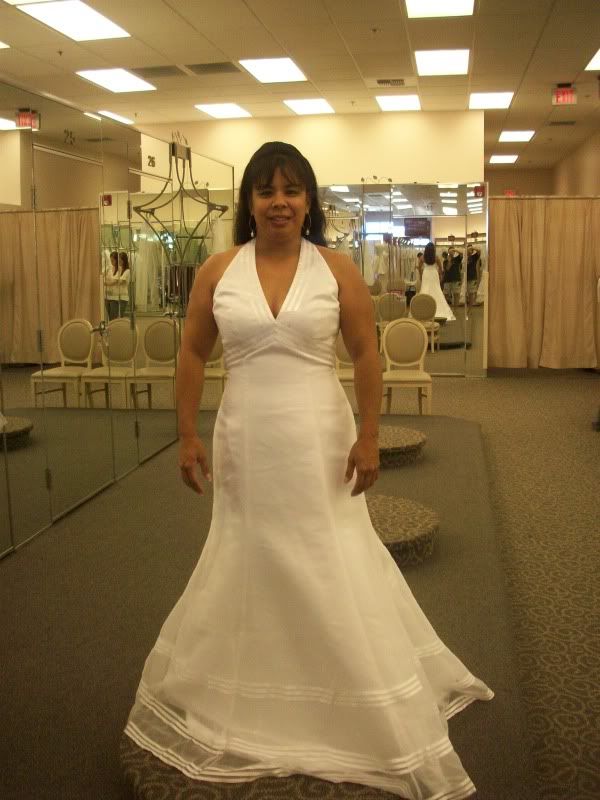 Yes, yes, yes... I know that I have football, linebacker shoulder and arms, but there is absolutely NOTHING I can do about that. :) I can, of course, work on losing that gut.
So on that note, I'm going to head out for a fun Saturday of shopping at Michaels. More DIY supplies are needed for several of my DIY projects!
Happy Saturday friends!! It's the last Saturday of January, 2010!!