For an overnight trip, I had an amazing time! We drove over 700 miles on this little venture, and it was well worth it!! Of course, I wised we could have spent more than two days looking at all the amazing beaches, quaint shops and awesome sunsets/sunrises!
As we were coming into the San Luis Obispo area, the sun was getting ready to set. I was able to capture several beautiful photos of it while Brian was driving! I'll share a couple of them with you.
While in Pismo, we got to go to the downtown area and walk along the long pier that they have. It was very beautiful! It was between 7 and 8 p.m. and I was able to take a picture of one of the last surfers coming in for the night. I aksed if he minded if I took a picture of him and he obliged! (You know me, I have no shame!!) I was totally amazed that there were people still surfing at this time of the night! Not to mention, back home, it was in the 40's ~ and here it was in the low 70's. So flabbergasted!
Here's a picture of myself, Amanda and I that my cousin took of us on the pier. I absolutely loved the fact that here we were, all bundled up and the locals who were out and about were in shorts and short sleeved shirts! As mentioned above, there were even people just coming in from the ocean. Absolutely crazy!! The air was so fresh, the ocean so vast. It was truly an amazing experience!
There was this little cafe on the boardwalk there that is most famous for their award winning Clam Chowder. It's called the
Splash Cafe
. In fact, their Clam Chowder is sooooo amazingly good that the local Costco is several surrounding cities all the way up to Frenso, now carries their Clam Chowder in their frozen food department! WOW!! They even ship orders if you'd like!!! I have to share with you one of their shirts that they have for sale. Yes, Brian HAD TO have this shirt ~ so we bought it.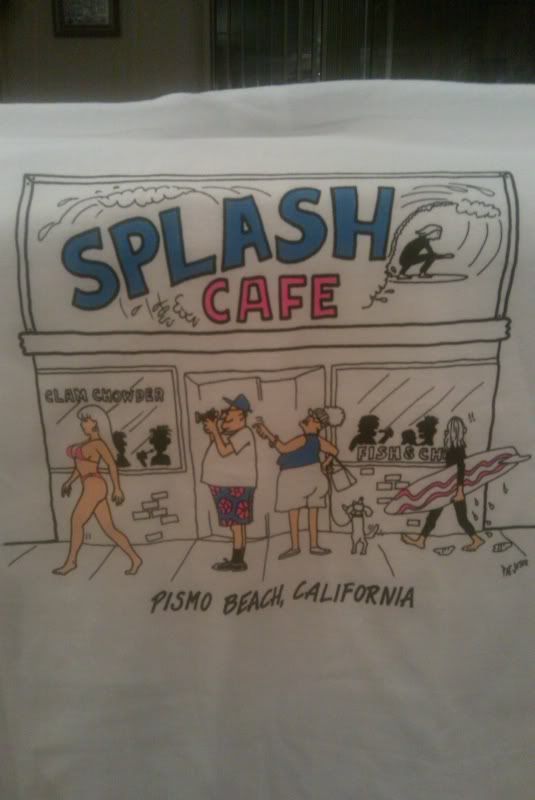 Interesting huh?!? Another interesting thing I found while browsing all the shops along the boardwalk was this delicasy:
This was just one of the many different flavors of Crickettes they had available!!!! You can find these and their famous Lollipops with worms in their at HotLix Candy Store.
Thursday morning as we were heading into Los Angeles, we caught the sun rising up over the ocean and that made for some awesome photos as well.
Can I just tell you guys that driving along the coast of California is such an awesome experience! I've lived in California for decades, and have gone to a beach here, a beach there, but to just drive down the Pacific Coast Highway and take in the vastness of the Pacific Ocean was truly breathtaking! Looking out over the ocean, it was never ending!
On our way back to the wonderful Central Valley of California, (he he he) we drove to Beverly Hills, down Wilshire Blvd.
And of course, I just had to drive down Rodeo Drive! :) Being there reminded me so much of the movie "Pretty Woman" ~ one of Brian and my favorites!
While our friends in the Central Valley was suffering through the cold wintery weather, I was very, very, surprised that the weather in down South was much warmer! Especially by the ocean, you would think it would be a little more on the chilly side. NOPE. Not on this day. It was 76 degrees! OMG!! 76! It was very comfortable weather!!!
Now, we're back at home where the weather is gloomy. As I write this post, it's 9 a.m. and 40 degrees. But wait...there's good news! It's going to warm up! The high for the day is going to be a big whopping 47 degrees. Now that's something to be grateful for huh?!?
::: total sarcasm intended :::
So, as I wind down from my whirlwind of a mini vacation, I have to get back in the reality of every day life. I have a wedding cake to prep for tomorrow. Not a very big order, (thank God) but a wedding cake nonetheless. Also, I have to resume my daily butt kicking from
Ms. Jillian Michaels
and her
30 Day Shred
. So not looking forward to those at all!
Have a wonderful Friday and enjoy your weekend!!