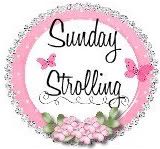 While it was a beautiful week, weather wise, I must say it was a very 'unproductive' week for me. It was my first full week with Duke ~ and he was a joy!! I thought it was going to be a hellacious time sleeping at night....or having to wake up every two hours to take him out potty....or him going potty everywhere around the house. But it wasn't bad at all!!
Tuesday was Duke's first Vet's appointment. He did rather well for being so scared!! Of course, everyone was just tickled pink and fussy over how cute and small he is! He weighed in at 2.14 lbs, got his 2nd set of shots and his nails trimmed. So overwhelming for a new puppy.
Our Date Day Thursday was certainly different this week, You can read all about it
HERE
and I'm actually fine with changing it up from time to time. In fact, I think going for a walk mid-morning is not so bad after all. Especially when going for lunch is included in there!
Pretty much the week was just blah. Nothing exciting planned, nothing exciting happened. Just another 7 days all rolling into one.
HOWEVER.... do you know what's coming up?!? What is the one thing I'm most passionate about in the Fall?!? Come on now!! Here's a hint.....................
That's right! FOOTBALL Season is coming!! Pre-Season starts in a couple of weeks and I AM OVER THE TOP EXCITED!!!
Yes, for those of you who don't know already, I am a DIE HARD Pittsburgh Steeler Fan! That's right.... I am . No if's ands, or butts about it.
It can get pretty hairy in our household, what... with Brian being a Vikings fan and all... and last season, it got pretty intense. If ya'll remember.... these two teams met in the playoffs. HAHAHAHAHAHAHA. If there's anyone interested in reading about the outcome of the game, you can read about it HERE. Or I can just remind you guys:
Steelers defeat Vikings, 27-17
I'll leave you guys with a little bit of Football SuperBowl Facts!!
(NOTICE WHO'S ON THE TOP OF THE LIST?!?)
Most Super Bowl Wins!!
Pittsburgh Steelers 6-1

San Francisco 49ers 5-0
Dallas Cowboys 3
Green Bay Packers 3-1
New York Giants 3-1
Oakland/LA Raiders 3-2
Washington Redskins 3-2
New England Patriots 3-3
Baltimore/Indianapolis Colts 2-2
Miami Dolphins 2-3
Denver Broncos 2-4
Baltimore Ravens 1-0
New York Jets III 1-0
Tampa Bay Buccaneers 1-0
New Orleans Saints 1-0
Chicago Bears 1-1
Kansas City Chiefs 1-1
St. Louis/LA Rams 1-2
Minnesota Vikings 0-4

Buffalo Bills 0-4
Philadelphia Eagles 0-2
Cincinnati Bengals 0-2
Tennessee Titans 0-1
Seattle Seahawks 0-1
San Diego Chargers 0-1
Carolina Panthers 0-1
Atlanta Falcons 0-1
Arizona Cardinals 0-1
(You notice who's on the top of the list of those with ZERO wins with 4 appearances?!?)