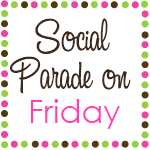 We're a week into this New Year, and how've you done with any of your Resolutions, Goals or Wishes?
I'm into book number 3 for the year. With two books read under my belt, I've got 123 to go. Pacing myself perfectly.
Book #1 was:
Book #2 was:
I've also been working on my weekly menu planning and actually sticking to said menu. :) So far, so good. I think we strayed one night, but for the most part, we're on track with that goal as well.
~~~~~~~~~~~~~~~~~~~~~~~~~~~~~
My "PROJECT" for the month of January going into February is to de-clutter and re-organize our den. Plain and simple.
I have a TON of beach wedding stuff I have to get rid of. So, I'll be listing everything wedding related on a few Wedding Planning Forums.
I'm going to organize all of my baking pans.
(And believe me when I say I have close to 75 or so pans of different shapes and sizes).
After the den is completely organized and looks awesome, I'm headed to the kitchen. Re-organizing the cupboards for sure!!
I want to use these
SnapWare
containers.
I will be sure to take before and after pictures of my de-cluttering and re-organizing projects.
~~~~~~~~~~~~~~~~~~~~~~~~~~~~~
What do YOU have on your plate this weekend?
As for me, I have a cake & cupcake order for Saturday; a two tiered cake order for Sunday; my daughter's 21st Birthday dinner on Sunday AND, somehow I have
to squeeze in FOOTBALL both days!! Yikes!!
Happy Friday and GO STEELERS!!