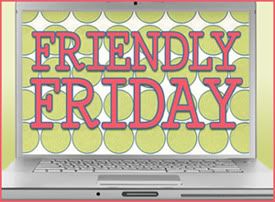 There's a Blog that I 'follow' called
"Thanks, Mail Carrier"
. She, along with a couple other bloggers host something called "Friendly Fridays". This is basically a Blog Hop, and bloggers can 'link up' their blogs by adding their blog to the list, and all of the hostesess readers/followers can check them all out!!! This is a great way to see what other blogs are out there in the Bloggesphere!!
I decided to give it a whirl, link up my blogs to the list, and host the Friendly Friday Link Up on my blog today. I think it'll be an awesome way for all of MY followers to have access to other blogs.
To join in the Friendly Friday celebration, include your link in the list below, and then start blog hopping! Visit other blogs on the list and feel free to leave a comment on their blog showing them some blog love. Be sure to follow them through Google Friend Connect.