These are the first round of my Centerpieces I
am going to use at both of our AHR's. As you can see, they're very easy to make. I purchased all the supplies at Michael's and the Starfish, Shells & Sea Biscuits were purchased from a former DW Knottie!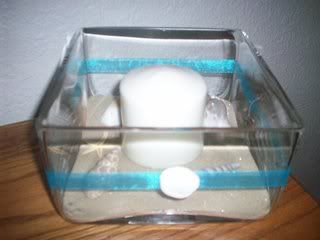 In lieu of a guestbook, I decided that I wanted to do a "Message in a Cylinder" where guest write their words of wisdom, or advice on a note card, then drop them in the cylinder vase! Here's my inspiration photo taken from the Wedding Star Magazine, and the other photo is what I created.